Evolve Battery Heated Hoodie, excl. Power Bank
Bring your own power to Venture Heat's Evolve USB Hoodie. Our heated hoodie combines comfort, natural warmth and style with our signature micro-alloy heating elements. Hoodies are one of the most popular ways to stay warm and comfortable year-round, but now you can have the added convenience of heat, powered by a USB Power Bank.

The Evolve Heated Hoodie has 1 flexible heating panel on the back, and 1 panel on each chest so your entire core will remain warm. Each heating panel has a thin, breathable mesh to maximize efficient heat transfer.

We wanted you to be naturally warm when wearing the Evolve USB Heated Hoodie, so we lined the entire heated hoodie with a soothing plush fleece, including the sleeves and hood, plus the outer layer is a thick polyester spandex blend.

The Evolve heated hoodie is powered by a wide variety of standard 2.1 amp USB Power Banks, instead of a battery. Having a USB power bank power your hoodie, you are not limited to just one battery, per product - rather this allows you to also charge your phone, tablet, or GPS. All of this in a comfy hoody will keep your adventure going.
PS! Does not include power bank. Compatible with any 2.1 amp USB Power Bank.
See Promotion Video by clicking on the image below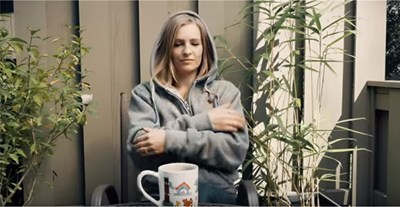 What's Included?
1 Evolve Heated Hoodie

Instructional Manual
*Does not include USB Power Bank*
Specifications
Power System: USB Power Bank 2.1 Amp

Heating Elements: 1 on Back, 1 on Each Chest
Heat Settings: Low, Medium, High
Rechargeable Battery: Not Included
Voltage: 5V
Gender: Unisex
Exterior Fabric: Poly-Cotton Blend
Lining: Brushed Fleece
Style: Hoodie
Input: 2.1A
Capacity: Minimum 5,000 mAh
Heat Duration
Setting Heat Duration
Low / Blue: 11 Hours
Medium / White: 6 Hours
High / Red: 4 Hours
*Based on USB 2.1A, 10,400 mAh power bank*
Sizing Chart for Hoodie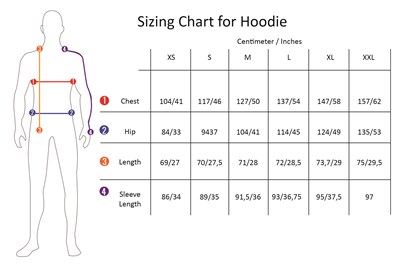 Tri-Zone Heating
The Mico-alloy heating panels are placed to keep you the warmest - 1 large centered on back and 1 panel on each chest.
You Have The Power
Bring your own battery! Our Evolve Heated Hoodie is compatible with any 2.1 amp USB Power Bank or higher, providing hours of heat, and saving you the cost.
Plush Fleece-Lining
The plush-fleece lining, including the sleeves and pockets, adds an extra layer of insulation but provides natural heat, keeping you even warmer.