We took it to the next level and added 2 heating panels in each ear to maximize your warmth. The stylish heated trapper hat is lined with plush fur and has a down-filled nylon shell for heat insulation and comfort.
The nylon shell is both wind and water resistant, which will keep you safe and dry while the heat is cranked up. You can button up the ear flaps or let them hang to keep your ears warm and trap the heat in. You can also can buckle the chin strap to warm up your chin and jaw.

We designed the heated trapper hat to to be the most comfortable trapper hat on the market. This is why we placed the battery connection on one ear flap and the button on the other, so you barely even notice the lightweight battery when plugged in.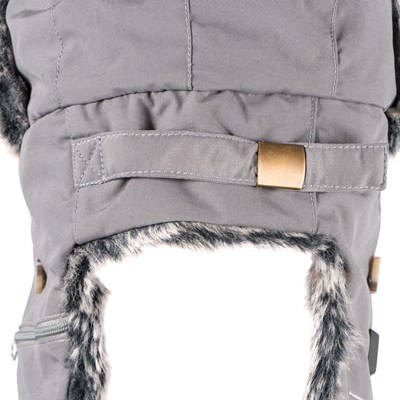 Flexible Fit
The rear adjustable strap allows you to customize the heated trapper hat's fit.
Battery pocket
We placed the battery pocket over the right ear so you won't even feel it. The zipper is water resistant.
Temperature controller
Easily control the temperature of your heated trapper hat on the outside of the left ear.
Specifications
Power System: Rechargeable Lithium-ion Battery
Heating Elements: 1 on Each Ear
Heat Settings: Low, Medium, High
Rechargeable Battery: BX-25, 7V, 1800mAh
Voltage: 7V
Exterior Fabric: 100% Quilted Nylon Micro Rip-Stop
Lining: Plush Fur
Insulation: Down-Filled
Style: Trapper Hat
Heat Duration
Low/Green Light: 5 Hours
Medium/Yellow Light: 3.5 Hours
High/Red Light: 2.5 Hours