Base Layer Heated Pants - Unisex
What's Included:
Tri-zone Heated Base Layer Pants
Rechargeable Lithium Ion Battery (604B)
100-240V Battery Charger (Z840120)
Instructional Guide
Overview
The Heated Base Layer Pants are a compression-like pant with a synthetic poly-spandex material to wick moisture away keeping your legs dry and warm. With a built-in exterior controller that flips over your outwear pants, you have easy access to the 3 temperature settings. Enjoy the active heat of 3 hair-thin micro-carbon fiber heat panels for hours on end thanks to the long lasting lithium ion battery.
The heated base layer pants are lined with fleece, making this the perfect base layer for comfort, performance and warmth. The heated pants feature 3 heating elements powered by a 7V lithium-ion battery: 1 on each knee/thigh and the waistline.
*sizing: note that the pants can have fit multiple sizes because elastic waistband and streatchable material. Fit is based on personal preference.*
Measurements
Sizes Hip (cm) Inseam (cm)
XS: 73,7 73,7
S: 81,3 76,2
M: 83,3 78,7
L: 91,4 81,3
XL: 96,5 83,8
XXL: 101,6 86,4
Tri-Zone Smart Pre-Heat
The ultra flexible micro-carbon fiber heating panels in each knee and rear maximizes heat efficiently for your lower body. When the pants are turned on they quickly boosts heat for 5 minutes, then automatically switches to low setting to quickly get you warm and comfortable.
Xtreme Comfort Technology
The unique Z-Stretch carbon-fiber heating elements allow for a large range of motion and even faster heat without feeling the bulk!
7v Safety
Although the heated base layer pants have a compression fit, they are breathable so your body's natural heat is trapped while the cold can't get in.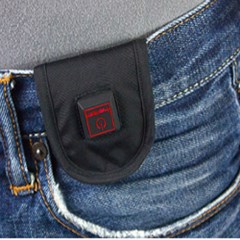 Digital Controller Flap
The temperature controller is located on an external flap that is designed to sit on top of your outer pants for quick & easy access.

Breathable Base Layer
Our heated base layer pants are designed to quickly wick the body's moisture away so you can remain even more comfortable and warm while keeping your adventure going.
Heat Duration
Low / Green LED Light: 5 Hours

Medium / Yellow LED Light: 3 Hours

High / Red LED Light: 2 Hours
Specifications
Style:

Heated Base Layer Pants

Power System: Rechargeable Lithium-ion Battery
Heating Elements:

1 on each knee, 1 on rear hips

Heat Settings: Low, Medium, High
Rechargeable Battery:

604B, 2200mAh

Voltage: 7V
Gender: Women
Exterior Fabric:

85% Nylon, 15% Spandex

Lining:

Brushed Fleece
​